This Year's Elementary School Book Project Another Great Success
On December 18, 2019, a group of volunteers from the GBA delivered holiday cheer and more than 200 well-wrapped books to the K-5 students in the Traditional English program at David D. Jones Elementary School.  As always, the children were happy and excited to receive their gifts.  As in years past, the books were purchased through Jones Elementary's Scholastic Book Fair, which provides the school with points that can be used to purchase new books for the school library and classrooms.  Thanks go to the GBA members who donated this year to reach a total of $2,958.61 and to those who took the time and care to wrap the books at the GBA Holiday Party on December 11.  Sufficient funds were raised to purchase additional books as gifts for all fifth graders graduating from Jones Elementary this year in both the Traditional English and Spanish Immersion programs as well as to make a donation to the school's Food Bank.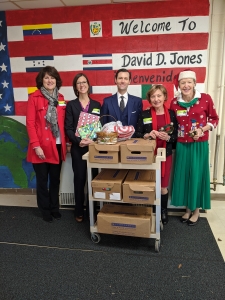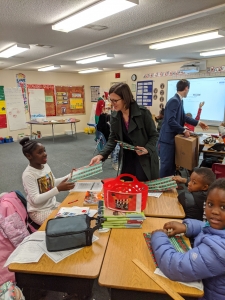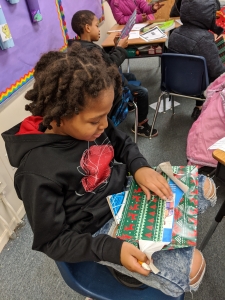 The GBA would like to thank the following individuals and groups for their generosity in donating to the annual Elementary School Project:
Michael R. Abel
Sharon K. Allen
Charlene V. Armstrong
Joseph R. Beatty
Corinne Berry
Carruthers & Roth, P.A.
Barbara Christy
Sabrina Clark
Sally B. Cone
Hon. Tonia Cutchin
Kearns Davis
Robert D. Douglas III
Pam and Alan Duncan
Hon. Catherine Eagles
Floyd & Jacobs
Miriam Forbis
Erwin Fuller
Ashleigh Greene
Allison Grimm
Melanie Hamilton
Terrill Harris
Hon. A. Robinson Hassell
Richard H. Hicks
Afi Johnson-Parris
Sharon A. Johnston
Ken Keller
Adam Kerr
Beth Langley
Sue Liemer
Diane Lowe
Art MacCord
Ronald Mack
Henry B. Mangum, Jr.
Matthew L. Mason
Emily Melvin
Jennifer Mencarini
Barbara Morgenstern
Allison Mullins
Martha Peddrick
Abigail Peoples
David Puryear
Elizabeth Ray
Erin Reis
Eric Richardson
Steve Schlosser
Polly D. Sizemore
Michele Smith
Donald K. Speckhard
Frank Sutherland
Jennifer Van Zant
Theodora A. Vaporis
Samantha Varney
Hon. Teresa H. Vincent
Gerald Walden
Jeri L. Whitfield
Bob Wicker
Douglas E. Wright
https://www.greensborobar.org/wp-content/uploads/2019/02/GBA-Logo-2.png
0
0
Greensboro Newsletter
https://www.greensborobar.org/wp-content/uploads/2019/02/GBA-Logo-2.png
Greensboro Newsletter
2019-12-27 17:44:07
2019-12-28 15:19:46
This Year's Elementary School Book Project Another Great Success