Young Lawyers Section: Connections
During the month of April, the Young Lawyers Section partnered with Hunter Elementary School in Greensboro to host a breakfast to recognize the school's honor roll students. The YLS provided and served food to around 150 students and family members at the honor roll breakfast, which was held before school on Friday, April 21st. Thank you to Hunter Elementary School for allowing us to help celebrate the achievements of their students, and thank you to all Young Lawyers Section members and GBA members who were able to join us!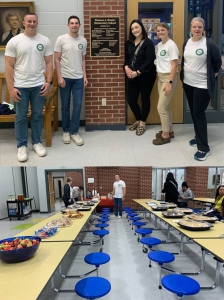 The Young Lawyers Section also wrapped up its NCAA Tournament Bracket Challenge in the month of April. The 1st place finisher was Eliu Mendez, 2nd place was John Wright, and 3rd place was "Deb_&_Bailey." Congratulations to all three winners! The three finalists should contact info@greensboroyls.org to claim their prize.
Lawyers On The Lawn
The YLS is partnering with Shift_Ed to host an outdoor happy hour for lawyers at Lawn Service in LeBauer Park in Downtown Greensboro. Shift_Ed is a non-profit organization that operates using an equity-based model to support students with the greatest needs in the Guilford County School system. Come join us on Thursday, May 11th to network with other attorneys in the community and learn about Shift_Ed. Free snacks and a drink ticket will be provided to all attendees, and a portion of the proceeds collected by Lawn Service from the purchase of drinks will be donated to Shift_Ed. All attorneys with both the GBA and YLS are welcome to join. If you'd like to attend please register at https://shift-ed.org/event/lawyers-on-the-lawn. We hope to see you there!
Free Legal Answers: Empower Hour
The Young Lawyers Section is hosting a Free Legal Answers: Empower Hour pro bono event on May 18th from 4:00 pm to 5:00 pm. The event will be held at 101 S. Elm St. in Downtown Greensboro and volunteers will be anonymously responding to questions that fit their legal interest from 27 available legal categories. Free Legal Answers events help expand access to justice for low-income North Carolinians who can submit their civil legal questions to be answered by attorney volunteers. If you would like to participate, please RSVP to info@greensboroyls.org to receive registration information. Participants will need to provide their own laptop for their use during the event.
YLS End of the Year Party
The YLS is hosting an End of the Year Party on Thursday, May 18, 2023, following the Free Legal Answers: Empower Hour event. The party will be held at Oden Brewing beginning at 5:30 pm and food and drinks will be provided by the YLS. This event will act as the YLS end of the year meeting at which we will elect officers and at-large board members for the 2023-2024 YLS term. The members of the YLS kickball team, Torts Illustrated, will also be recognized at this event. We encourage all members of the YLS to join us for an opportunity to connect. If you plan to attend, please RSVP to info@greensboroyls.org.
YLS Kickball Team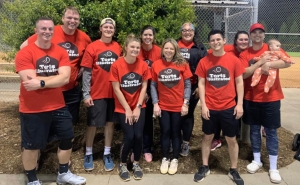 The YLS kickball team, Torts Illustrated, had another exciting month of games in April. The team continues to improve on its success and has established itself as a force to be reckoned with within the league. Torts Illustrated plays every Monday evening, weather permitting, at Carolyn Allen Park located at 3610 Drawbridge Parkway in Greensboro. The upcoming schedule of games is listed below. We hope that you will come out to cheer on the team!
Monday, 5/1/2023 @ 7:30 PM on field 2
Monday, 5/8/2023 @ 8:30 pm on field 2
GBA YLS 2023-2024 Board Elections
If you are interested in serving on the Board for the Greensboro Bar Association Young Lawyers Section for
the 2023-2024 year, please email Robert Trimble at robert@sklawnc.com to submit your nomination and get your name on the ballot. The deadline to submit nominations is Monday, May 15th at 5:00 pm, and the election will be held at the YLS End of the Year Party on May 18th at Oden Brewing.
Connect with YLS:
One of our main goals is to serve our members by providing service opportunities and activities that interest you.  We are working diligently to think of new events and that will create additional ways to interact with other young lawyers. We encourage you to consider what service opportunities and activities you would be interested in, and we would love to hear from you. Please email your ideas and suggestions to the Young Lawyers Section at info@greensboroyls.org. 
The Young Lawyers Section would like to celebrate life's milestones with our members. Email the YLS at info@greensboroyls.org to share personal and professional updates about yourself that you would like celebrated on the YLS Facebook page.
If you are interested in more information about the Young Lawyers Section and how you can get involved, visit our Facebook page (Greensboro Bar Association's Young Lawyers Section) or email the YLS at info@greensboroyls.org.
If you would like to be added to the Young Lawyers Section email list, please email the YLS at info@greensboroyls.org.
https://www.greensborobar.org/wp-content/uploads/2019/02/GBA-Logo-2.png
0
0
Greensboro Newsletter
https://www.greensborobar.org/wp-content/uploads/2019/02/GBA-Logo-2.png
Greensboro Newsletter
2023-05-01 10:40:13
2023-05-01 11:01:33
Young Lawyers Section: Connections