Young Lawyers Section: Connections
As 2022 comes to a close, the YLS is grateful for all of the support received from its members and members of the GBA throughout the past year. The Young Lawyers Section is excited for what we have planned for the remainder of the year and for what we have upcoming in 2023. We are planning even more opportunities for young lawyers to socialize and network, as well as opportunities to support our community and those in need. Keep an eye out for CLEs, speaker luncheons, and community service projects which are being planned for the upcoming year.
At the end of October, the Young Lawyers Section held its Fall Swearing-in Ceremony for the admission of newly licensed attorneys to the state and federal courts. Congratulations to the 14 newly licensed attorneys who took their oaths and were admitted to practice in State and/or Federal Court. The YLS would like to thank Judge Eagles, Judge Albright, and Judge Vincent for presiding over the ceremony, as well as all the State Court and Federal Court clerks who helped to organize the event. We also want to thank all the Young Lawyers Section members and GBA members who were able to join us to support our newly licensed attorneys!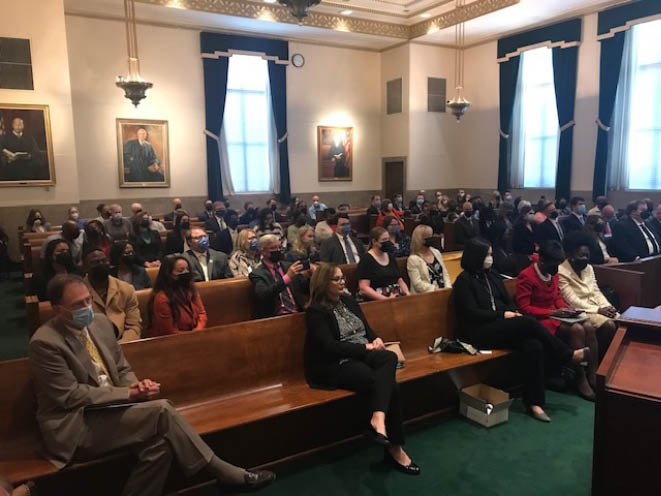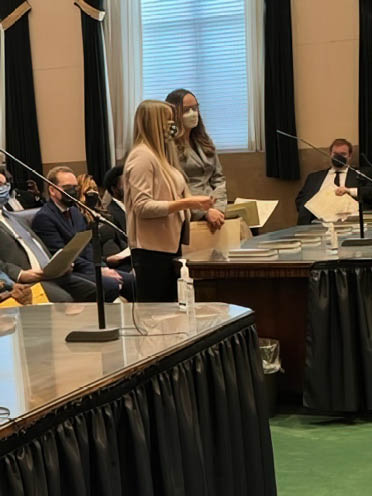 YLS Holiday Party and Donation Event:
Spread some holiday cheer with the YLS while also supporting a good cause! The Young Lawyers Section is hosting its annual holiday party on Thursday, December 15th, 2022, from 5:30 pm to 9:30 pm. The party is being held at Ward Black Law located at 208 W. Wendover Ave. in Greensboro. This will be a great opportunity to socialize with other young attorneys in Greensboro while enjoying food, drinks, and games. The Young Lawyers Section will also be collecting donations of children's shoes and children's winter clothes at the event. These donations will be delivered to Backpack Beginnings in Greensboro, where they will be distributed to children in need in our community. Spouses are welcome to join; please RSVP to Robert Trimble at robert@sklawnc.com by December 8th if you plan to attend. We hope to see you there!
YLS Kickball Team:
The Young Lawyers Section is recruiting for its 2023 Kickball team! In 2022, the YLS premiered its coed beginner league kickball team, "Torts Illustrated." 21 members strong, the team had a fun-filled season and was celebrated at the YLS End of the Year Party! We look forward to growing our team and camaraderie in the 2023 spring season. Membership and jerseys are FREE, courtesy of the YLS. SPOTS ARE LIMITED, so sign up today at YLS Kickball Team Interest Survey (surveymonkey.com). We are also accepting submissions for the 2023 team logo/t-shirt design. Please submit all suggestions to Team Manager, Elizabeth Robertson, at earay@crlegalteam.com. We look forward to seeing you on the field! Let's play ball!
Connect with YLS:
YLS is in the process of scheduling a social event for our members. An e-mail blast will be sent out in the coming weeks regarding this event. We hope you can join us!
Do you have an idea for a future YLS event, service project, and/or social activity? Please share by emailing Robert Trimble at robert@sklawnc.com. 
Do you want more information about upcoming YLS events or to find out how you can get involved? Check us out and follow our Facebook page (Greensboro Bar Association's Young Lawyers Section). 
If you would like to be added to the YLS email list, please email Robert Trimble at robert@sklawnc.com.
YLS would like to celebrate life's milestones with our members. Email info@greensboroyls.org to share personal and professional updates about yourself that you would like celebrated on the YLS Facebook page.
https://www.greensborobar.org/wp-content/uploads/2019/02/GBA-Logo-2.png
0
0
Greensboro Newsletter
https://www.greensborobar.org/wp-content/uploads/2019/02/GBA-Logo-2.png
Greensboro Newsletter
2022-11-30 11:52:17
2022-11-30 11:52:17
Young Lawyers Section: Connections