Young Lawyers Section: Connections
An Update from YLS
YLS is dedicated to hosting at least one event each month. In September, we hosted our "kick off" event at Abbey Taphouse and planned our Fall Swearing-In Ceremony. The Swearing-In Ceremony took place on October 27, 2023, at the Old Guilford County Courthouse and we enjoyed the opportunity to welcome newly-licensed attorneys to the profession and to tell them about the GBA!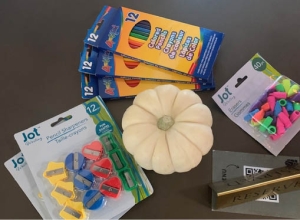 The YLS Board recently met with Assistant Principal Oneeka Lockhart to discuss the needs of Hunter Elementary School students and to discover ways we can serve this well-deserving school. We look forward to continuing our partnership with them this year! 
YLS Happy Hour "Kick Off" Event at Abbey Taphouse
On Thursday, September 28, 2023, YLS hosted a Kick-Off Party at Abbey Taphouse. We welcomed some familiar friends and welcomed some new faces! This was a successful networking and service event.  Alongside the networking fun, we raised school supplies for Hunter Elementary School to be delivered in the following weeks.
YLS Member Spotlight: Casey Robinson, Board Member
Casey practices Family Law at Garrett, Walker, Aycoth & Olson. She handles domestic matters such as child custody, child support, equitable distribution, alimony, and divorce cases in Guilford County, Randolph County, and Rockingham County here in North Carolina.
Casey's favorite part about her job is being there to help people going through some of the toughest times of their lives. She states, "Navigating the legal process can be difficult, especially revolving around something as important as one's family. My goal is to help people navigate the system, advocate for their needs, and work to a resolution that meets their goals."
Upcoming YLS Events:
In November, YLS is hoping to host a "bowling night" social event. Stay tuned for details! 
For more information about YLS events & service opportunities, follow us on Facebook: Greensboro Bar Association's Young Lawyers Section.
Connect with YLS:
To provide feedback & suggestions for future events/programming, please email the Young Lawyers Section at info@greensboroyls.org. 
The Young Lawyers Section would like to celebrate the personal milestones and professional accomplishments of it's members. Email YLS at info@greensboroyls.org to share achievements that you would like celebrated on the YLS Facebook page.
https://www.greensborobar.org/wp-content/uploads/2019/02/GBA-Logo-2.png
0
0
Greensboro Newsletter
https://www.greensborobar.org/wp-content/uploads/2019/02/GBA-Logo-2.png
Greensboro Newsletter
2023-10-31 15:58:49
2023-10-31 16:01:33
Young Lawyers Section: Connections