Kearns Davis Receives GBA Distinguished Service Award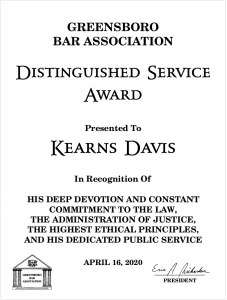 The Greensboro Bar Association established the Distinguished Service Award in 1993 to annually recognize a lawyer for exhibiting a deep devotion to the legal profession and an enduring contribution to the administration of justice and the public good through unselfish service. Kearns Davis was honored at the Greensboro Bar Association's historic virtual annual meeting on Thursday, April 16, 2020. Members are invited to read the nomination submitted by the Awards Committee:
GBA Awards Committee's Nomination of Kearns Davis
Kearns Davis founded and leads Brooks Pierce's white-collar defense and investigation practice. Among other honors and awards, he is listed in North Carolina Super Lawyers Top 10 attorneys in all categories (Thomson Reuters, 2016-2019), The Best Lawyers in America© in White-Collar Criminal Defense (2010-2019), Chambers USA: America›s Leading Lawyers for Business in White-Collar Crime and Government Investigations (Band 1) (2012-18), and Business North Carolina's "Legal Elite" in Criminal Defense (2008-19). In addition, Best Lawyers has repeatedly named him «Lawyer of the Year» for Greensboro in White-Collar Criminal Defense (2013, 2016, & 2018), and Benchmark Litigation recognizes him as a "Litigation Star" for North Carolina in White-Collar Crime (2015-2019). A former federal prosecutor, he has tried jury cases at all levels of federal and North Carolina trial courts, represents clients in U.S. trial and appellate courts across the country, and handles a broad range of federal and business litigation.
Kearns Davis served as president of the North Carolina Bar Association in 2016-17 following a year as president-elect. Davis previously served as chair of the NCBA's Young Lawyers Division from 2004-05, as chair of its Criminal Justice Section from 2007-08, and as a member of the NCBA Board of Governors from 2011-14. He was the first recipient of the Young Lawyers Division's Robinson O. Everett Professionalism Award.  During his tenure as chair of the Criminal Justice Section in 2007-08, the section initiated an annual recognition dinner that has evolved into one of the highlights of the association year. The event features recognition of an outstanding criminal defense attorney and an outstanding prosecutor.
Davis began laying the groundwork for a historic relationship while serving as president of the North Carolina Bar Association during 2016-17. On a personal trip to Haiti before becoming NCBA president, Davis connected one morning for breakfast with Haitian bar leaders. During that meeting, Port-au-Prince Bar Association President Stanley Gaston expressed interest in developing a relationship with the NCBA.  Haitian bar leaders then traveled to North Carolina to witness Davis's inauguration as NCBA president in June 2016. In May 2017, Davis, other representatives of the NCBA, and students from the Elon University School of Law visited Haiti to present at a conference on economic investment. In his address at the Haitian Supreme Court, Davis emphasized the North Carolina Bar Association's belief in Haiti's ability to create a bright future for the country, citing its ready workforce and geographic advantage as well as the importance of the need to trust the legal system in that everyone who invests in a business, whether it is an international investment or a domestic investment, wants to know that the business will be treated fairly, in accordance with the law.
The latest trip to Haiti included the Honorable James Gale, Chief Judge of the North Carolina Business Court, who also addressed the Haitian Supreme Court. A group of young attorneys from Port-au-Prince visited North Carolina in September 2018 as part of an exchange between the two bar associations.
Davis has participated in a broad range of professional and civic activities, including service on the boards of directors of the Greensboro Police Foundation and the Greensboro Sports Council. He has also served on the North Carolina Equal Access to Justice Commission and as president of the Federal Bar Association's Middle District of North Carolina Chapter.
https://www.greensborobar.org/wp-content/uploads/2019/02/GBA-Logo-2.png
0
0
Greensboro Newsletter
https://www.greensborobar.org/wp-content/uploads/2019/02/GBA-Logo-2.png
Greensboro Newsletter
2020-04-30 18:43:43
2020-04-30 20:29:10
Kearns Davis Receives GBA Distinguished Service Award