Young Lawyers Section: Connections
Happy New Year! The Young Lawyers Section is excited for the new year and for what we have planned in 2023. We look forward celebrating the new year with all of our members and providing even more opportunities for young lawyers to network and to support our community.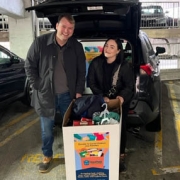 During the month of December, the Young Lawyers Section held a donation drive for BackPack Beginnings. The YLS collected even more donations than expected and was able to provide two large boxes full of children's clothes, books, and food to BackPack Beginnings. Thank you to everyone who donated during this event to help those in need. 
The Young Lawyers Section also held its annual holiday party during the month of December. The holiday party had a great turnout, delicious food, and lots of holiday themed games. The YLS would like to thank Ward Black Law for hosting the event, and all the Young Lawyers Section and GBA members who were able to join us to share some holiday cheer.
YLS CLE Event: "Ripped From The Headlines"
The Young Lawyers Section will be sponsoring a free 1-hour CLE on January 17, 2023, from 12:00 pm to 1:00 pm via Zoom. The topic is "Ripped From The Headlines: Ethical Conundrums to Avoid" and will provide attendees with 1-hour ethics credit toward NC Bar CLE requirements. If interested, please RSVP to Elizabeth Robertson by January 16, 2023.
Speaker Luncheon
The Young Lawyers Section is hosting a Speaker Luncheon on February 1, 2022, at Undercurrent Restaurant in Downtown Greensboro. The Speaker Luncheon will feature Janet Ward Black, a prominent local attorney, who will offer advice to new and aspiring attorneys on furthering their careers and making the most of the legal profession. This will be a great opportunity to learn while enjoying lunch on the YLS and networking with other young lawyers in the community. If you would like more information or are interested in attending, please contact Robert Trimble by January 25, 2023. Space is limited.
BackPack Beginnings Service Opportunity and Networking Event:
The Young Lawyers Section is planning an in-person service opportunity at BackPack Beginnings in Greensboro. The service opportunity will take place on February 23, 2022, from 3:00 pm to 5:00 pm, and volunteers will be packing weekend food bags which will be distributed to children in need at preschools and elementary schools in our community. Following the service opportunity, the YLS will also be hosting a networking event at 5:30 pm. Please keep an eye out for more information on the YLS Facebook page and the February GBA Newsletter. 
YLS Kickball Team
The Young Lawyers Section is recruiting for its 2023 Kickball team! In 2022, the YLS premiered its coed beginner league kickball team, "Torts Illustrated." 21 members strong, the team had a fun-filled season and was celebrated at the YLS End of the Year Party! We look forward to growing our team and camaraderie in the 2023 spring season. Membership and jerseys are FREE, courtesy of the YLS. SPOTS ARE LIMITED, so sign up today at YLS Kickball Team Interest Survey (surveymonkey.com). We are also accepting submissions for the 2023 team logo/t-shirt design. Please submit all suggestions to Team Manager, Elizabeth Robertson. We look forward to seeing you on the field! Let's play ball!
Connect with YLS:
YLS is in the process of scheduling a social event for our members. An e-mail blast will be sent out in the coming weeks regarding this event. We hope you can join us!
Do you have an idea for a future YLS event, service project, and/or social activity? Please share by emailing Robert Trimble. 
Do you want more information about upcoming YLS events or to find out how you can get involved? Check us out and follow our Facebook page (Greensboro Bar Association's Young Lawyers Section). 
If you would like to be added to the YLS email list, please email Robert Trimble.
YLS would like to celebrate life's milestones with our members. Email [email protected]
to share personal and professional updates about yourself that you would like celebrated on the YLS Facebook page.
https://www.greensborobar.org/wp-content/uploads/2019/02/GBA-Logo-2.png
0
0
Greensboro Newsletter
https://www.greensborobar.org/wp-content/uploads/2019/02/GBA-Logo-2.png
Greensboro Newsletter
2022-12-30 22:32:56
2022-12-30 22:37:50
Young Lawyers Section: Connections